Profile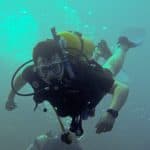 Douglas Bray
Curriculum Vitae
Education

Arden Academy (2006-2011), Arden Sixth Form (2011-2013), University of the West of England (2013-2016), University of Leeds (2017-Present)

Qualifications

13 GCSE's, 1 AS Level, 3 A-Levels, BSc Environmental Science and MSc Bioenergy

Work History

Bartender, Shop Assistant at Tesco's, Analytical Chemist

Current Job

PhD Researcher

Employer
Favourite thing to do in my job: Travelling to amazing places and meet cool people

About Me: I am Doug and I am in my 2nd year of my PhD at the University of Leeds. I am looking at how certain plants can clean water and then be used to make food and energy. I like playing sport (cricket and football) and SCUBA diving.

Read more

I am half-Australian and try to visit my family in Sydney as often as possible. I live in a flat in the outskirts of Leeds with 2 friends.

During the summer, I play cricket for a small village in the Yorkshire Dales. During the winter I play football for a society at the University which I have helped to set up.

I learnt to SCUBA dive during my time degree in Bristol. This was so I could travel to Cuba and work on a coral reef.

During my free time I like to play games with my friends and watch Friends

My Work: In my work I use Water Hyacinth, a plant that lives in tropical water, to make protein for animal food and gas so that villagers can cook. Water Hyacinth kills all animals that live in the water so we need to find ways to use it.

Read more

In my work I collect Water Hyacinth, a plant that lives in tropical water. I travel to India and Uganda to collect Water Hyacinth, this plant has invaded these countries from Brazil. Water Hyacinth grows in the rivers and lakes and stops people from being able to fish and kills all animals in the water.

     

I am trying to find ways to use this plant so that people can harvest and sell it. One of the ways is to produce protein for animal food. Fish food is very expensive to produce so by using Water Hyacinth we can reduce the cost and give local people a job.

Another way is to make gas for people to cook with. This is done through Anaerobic Digestion, which is a fancy way of saying feed plants to microorganisms (bacteria) which then eat the plant and produce methane (farts). We can then burn methane to cook food.

My Typical Day: Every day is completely different! Some days I spend time in the library trying to understand new things, some days I am in the laboratory running experiments and other days I can be travelling to other countries to collect plants for my work.

Read more

My work involves working on a computer, in a laboratory and regular trips for fieldwork. Doing a PhD means that a lot of my work is looking at things people have never done before so I spend a lot of time on the computer searching for what other people have done and trying to improve on this.

Once I have found things I want to do, I go to the laboratory to test these ideas and find out whether what I think is correct. This can be burning things, mixing up acids to try and digest (break down) plants or setting up machines to blow up plants.

To test my ideas I need to collect and grow plants, to do this I need to go to India to collect plants. I also go to Wales and London which is where I grow the plants in specialist chambers that can create the same conditions as India.

What I'd do with the prize money: My friend in India works with a charity that young girls that live in the rural areas of India, the charity brings them together to teach them practical skills. I hope to work with the charity that will allow the girls to learn more about science. This could mean they could travel to the cities and get more education in the sciences.

Read more

My partner in India works with a charity that young girls that live in the rural areas of India. They don't get an opportunity for education so the charity brings them together to teach them practical skills. I hope to develop a programme that will allow the girls to get more education in the sciences. There is plenty of opportunity for education in the cities but the girls that live in the tribal communities do not get this opportunity.

The charity is aiming to expand to bringing more girls in and giving them more time for education but the money is not there for them to give the girls full-time teaching. The hope is that they will be able to travel to city for education then travel back to their communities as often as possible.

My Interview

How would you describe yourself in 3 words?

Sporty, Nerdy, Chatty

What or who inspired you to follow your career?

I always liked natured, being able to study nature as a job is what I have always wanted.

What was your favourite subject at school?

Biology

What did you want to be after you left school?

I wanted to be a physio for a football team

Were you ever in trouble at school?

I was very quiet at school so didn't get into any major trouble

If you weren't doing this job, what would you choose instead?

Animal Photographer

Who is your favourite singer or band?

Imagine Dragons

What's your favourite food?

Cheese Burger

What is the most fun thing you've done?

SCUBA diving in Cuba

If you had 3 wishes for yourself what would they be? - be honest!

1. To live in Australia near the beach. 2. To own lots of dogs. 3. To be able to work in the rainforest studying animals and plants

Tell us a joke.

What did one leaf say to another? Leaf me alone!
---
---
---